Brian Langley, County Executive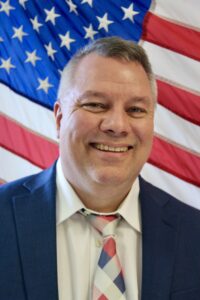 Morgan County Executive Brian Langley is a husband, father, and active community leader. Mr. Langley is a resident of Oakdale. After graduating from Oakdale High School he continued his education at Roane State Community College. He worked in the manufacturing sector four years at Red Kap Industries before he started a long career in journalism (1992-2018). He started as a sportswriter at the Morgan County Times in 1992 before helping start the Morgan County Standard in 2004. He then went to work for Morgan County News in 1996 before starting his own newspaper (Morgan County Today) in 2014. After 25 years in the newspaper business, Langley decided to run for this office and was successful in a five-man race during the 2018 election.
"I believe this is the path that God made for me. I am truly blessed to serve the citizens of Morgan County. I want to help move Morgan County forward and I take this job very seriously. I make no promises, other than I work hard for the people in Morgan County," said Langley.
Langley won his re-election bid in August of 2022 and is currently serving his second term.
Brian is married to Monica. They have three daughters (Willow, Madilyn and Kelsey) and one son Isaac. Brian and Monica Langley reside together in Oakdale.
"I am blessed to have such a supportive family. I am very thankful that I have a wife that stands beside me in my position as County Executive. Monica understands the demands of this job and I am so grateful for that. We make a great team," said Langley.
County Executive Langley has devoted much of his life to serving the people of Morgan County. With his 26 years working with the newspapers, he built strong connections to all the communities in Morgan County and has volunteered as a local recreational coach for different teams during the past 25 years.
"I have a great sense of pride in having a small part in helping mold our youth. I believe one of our most important jobs is to try and set a good example to our children so they can grow into respectful, productive people in our communities," said Langley.
Being a newcomer to public office, Langley has set his sights high for the future of Morgan County and what he wants to accomplish as Morgan County Executive.
"We live in what I consider the greatest county in the greatest state, and I have a vision for Morgan County to be a county that others in Tennessee want to try and replicate. Our greatest resource is the people in Morgan County. We have people that work together and want to help make this an even better place to live and raise a family. We want to recruit more business and industry, we want to be on the forefront of promoting tourism with all the different activities and places for people to come in and enjoy in Morgan County, and we also want to provide the most transparent and visible County Government to the people of Morgan County," said Langley.
Some of the Operations and Duties of the County Executive are as follows:
As chief executive officer of the county, the Morgan County Executive exercises a role of leadership in Morgan County Government and is the highest elected official. The primary duties focus on county financial management.
The Morgan County Executive can, and normally does, serve as chair of the county legislative body. If the Morgan County Executive is chair of the county legislative body, the County Executive may break a tie by casting a deciding vote; otherwise, the County Executive cannot vote on measures before the county legislative body. The Morgan County Executive who is not chair may veto legislative resolutions of the county legislative body, but such a veto may be overridden by a majority vote of the members of the county legislative body. The Morgan County Executive may call special meetings of the county legislative body.
Morgan County operates under the 1981 Financial Management System, and the Morgan County Executive is a member of the financial management committee.
The office of Morgan County Executive is a constitutional office with a variety of specific duties including: signing or co-signing all county checks; may examine the accounts of the county officers to verify each item of expenditure or revenue; serves as a nonvoting, ex officio member of each committee of the county legislative body and of each board, commission or authority of the county government; serves as an ambassador for Morgan County; responsible for the coordinated processing and analysis of all County legislative measures; the care and custody of county properties not designated to other elected officials; the power to appoint department heads, subject to the confirmation of the county commission; and most importantly serves as a voice for the Morgan County people to state and federal legislatures.
Many of the duties and responsibilities of the County Executive are not specifically addressed in the Tennessee Code, but are a function of the fact that the County Executive is expected to provide leadership and direction to the county in most policy areas. This leadership duty of the County Executive is not easily defined. The County Executive should have a better picture of the total government operation than any other county official, and should also have the knowledge, information and leadership ability to steer the county in the direction most beneficial to the county's future.
Departments Under Morgan County Executive's Direction
Accounts and Budgets Department
Morgan County EMS
Morgan County Emergency Management Agency
Morgan County Solid Waste
Morgan County Veterans' Service Office
Morgan County Recycling
Morgan County Litter
Office Location:
415 N Kingston Street
Wartburg, TN 37887
Contact Information:
Phone: (423) 346-6288
Email: executive@morgancountytn.org
Staff:
Bret Pallotta, Executive Assistant                                  Email: bret@morgancountytn.org
Sumer Evans, Litter Grant Coordinator                        Email: sumermoco@gmail.com